Emphatic win over St Anne's
A girls team begun their league campaign on Friday night with a comfortable 8-1 victory over St Anne's.
Playing on a very sticky and muddy surface, the girls acquitted themselves well and were 4-0 up at half-time thanks to a hat-trick from captain Tabitha, who also provided an assist for Rosie's first goal of the year.
In the second half, Tabi added two more goals, and Rosie doubled her tally, while Leah also got on the score sheet.
Despite the scoreline, St Anne's created plenty of chances as they grew in confidence and Olive had to pull off some smart saves, before the visitors finally got a deserved consolation in the last five minutes.
The game also saw good debuts for Meghan and Sienna, while Rachel, Emily-Jane and Bella put in strong performances.
Battling draw at St Cedds
A squad of 10 girls from Upper School travelled to St Cedds on Thursday night for a football friendly match.
Playing under floodlights, and on an artificial pitch, the girls took awhile to adjust and were losing 1-0 at half-time. However, they improved after the break and justifiably equalised through a shot by captain Tabi from a narrow angle, which beat the goalkeeper at her near post.
Both sides had chances to win and Olive pulled off a couple of saves, while Amelie made some saving tackles in defence. The game ended in a 1-1 draw.
Chloe said, "It was nerve-racking because I had never played a proper match against another school. Afterwards I felt proud."
Rachel added, "I think we played well and really improved on 'elasticating' and being more spaced out. It was quite exciting playing under lights."
Lottie also played her first match and the rest of the squad were Rosie, Leah, Connie and Daisy.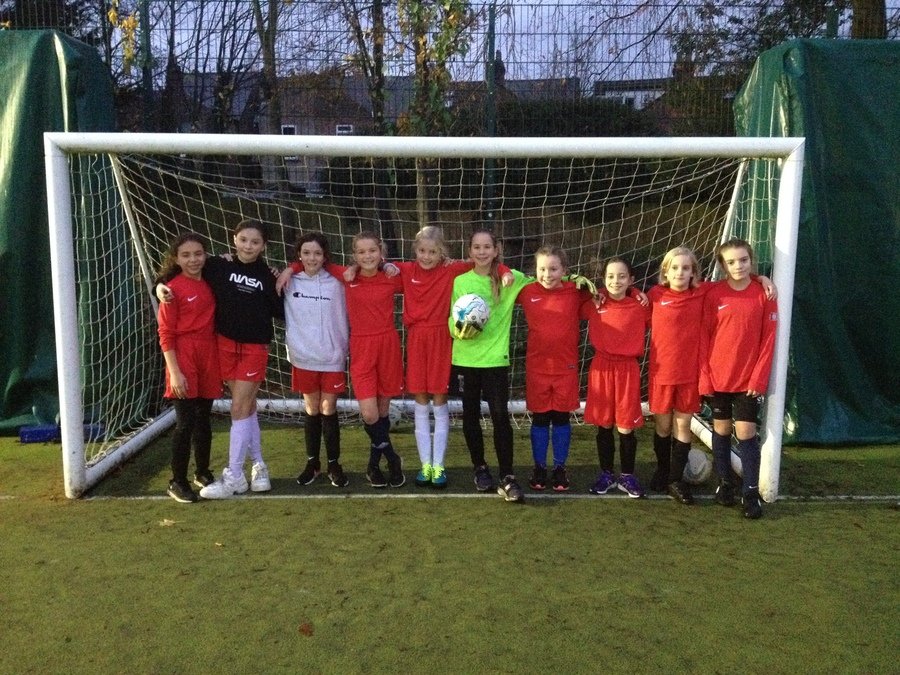 High-scoring draw at Chancellor Park
The school football team travelled to Chancellor Park on Tuesday night for a league fixture, hoping to avenge last year's semi-final defeat.
With three players making their debuts, the team raced into a 3-1 lead at half-time through goals by Alex, Aiden and Jacob.
Chancellor Park hit back after the break and made it 3-3 before Max gave us the lead again, only for the game to finish a 4-4 draw.
"I thought it was a tough game but thankfully we got a draw out of it," said captain Nana.
"I'm really happy for Aiden and Max, who got their first goals for the team."
The rest of the team were Adam, Jake J and Rosie, who also made her debut with the boys.
of t

he team were Adam, Jake J and Rosie, who also made her debut with the boys.