Semi-final heartache for wounded team
A goal with the last kick of the game meant the Cathedral agonisingly lost 4-3 in their cup semi-final at Chancellor Park on Tuesday.
The team had lead 3-0 early on thanks to goals from Joseph and Billy and a powerful strike from Harrison. However, the hosts always looked dangerous and had hit the crossbar twice in the first-half before reducing the lead to 3-2. Max pulled off a point-blank save and actually broke his wrist in the process, forcing an injured Alex to go in goal.
Chancellor Park soon equalised in the second half and forced Alex into a number of good saves. Although we had two efforts cleared off the line, the pressure finally told and Chancellor Park's best player poked the ball over the line in the dying seconds.
Reflecting on the match and the season, captain Harrison said, "We played well throughout the season and put loads of effort into the games. We were unlucky with the result. Thank you to Mr Gilmour for all his help. We wish Max a speedy recovery."
The rest of the squad were Oliver, Sidhart, Nana, Jake, Joseph, Tabitha and George.
Narrow home defeat for Girls
The girls team played their first home game of the year last Friday, losing a tight match 2-1 to St Anne's.
The Cathedral team took the lead in the first-half when Leah chased a clearance by keeper Olive and forced the ball into the net passed their onrushing stop-stopper.
St Anne's enjoyed a lot of pressure after half-time and Olive had to be alert to stop a lot of shots in goal. Eventually, the visitors scored two goals in as many minutes and just deserved victory on the balance of play.
With captain Tabitha unavailable due to a football trial, all the girls stepped up their performance. Amelie, who had a strong game in defence, said, " Everyone played well. The game was played in a really good spirit."
Mr Richardson would like to add that the girls followed the ethos of Sporting Prayer by always helping their opponents up when they fell.
Girls earn first win of the year
The Girls Football team claimed their first victory of the league season with a thumping 3-0 success at Boreham Primary last Friday.
Playing uphill and into the wind in the first half, the girls had to defend bravely and went in at half-time with the score level. After a rousing team talk from Mrs Burden, the girls quickly took the lead in the second half through Tabi, who then scored two more goals to complete her hat-trick.
Daisy, who was making her debut, said, "I really enjoyed how we all cheered each other on and shared teamwork and were able to pass the ball."
Bella, who was making her second appearance, said, "We were way better this time as we have got used to each other, so we knew how to help each other to use our tactics."
Captain Tabi added, "The best thing for me was that everybody helped and contributed to our win."
Unbeaten boys are top of the table
The Boys team claimed the Football League title last Friday with a 4-0 victory at Boreham Primary.
Kicking uphill in the first-half, the red and black stripes were still able to take a 2-0 lead, thanks to a neat flick from Nana and a shot into the bottom corner from Jake. After the break, Joseph made it 3-0 with a swift turn and shot before Harrison volleyed home the last goal from a free-kick.
Captain Harrison said, "We played well in both halves, attacking, passing and playing as a team well. It is great to think we have won a league."
Alex added, "It was hard to play on a pitch with such long grass and in such windy conditions, but we deserved the win.
The team will now play in the semi-finals of the League Cup competition in the summer term. They wait to find out who their opponents will be.
First point for girls at Chancellor Park
Mrs Burden's Girls Team got off the mark in their league campaign with a 1-1 draw at Chancellor Park.
Cathedral threatened to score early on but Chancellor Park were only denied in the first half by brave goalkeeping from Olive and two shots that hit the post. Eventually captain Tabitha gave the team a narrow lead at half-time.
Chancellor Park got a deserved equaliser from a well-placed shot in the second half. Although Cathedral had a lot of pressure in the home side's penalty area, the score stayed at 1-1 which was probably a fair reflection of the game.
Kalista, Leah and Bella made their debuts and the rest of the team were Connie, Rosie, Amelie and the two Annabels.
Late strike clinches five-goal thriller
Nana's screamer in added time secured the win for the Cathedral School against St Pius, there were two goals scored by Harrison (Captain) as the team came from behind in the last five minutes to win 3–2.
Harrison said, "We played well and good team work all round, ever one put a shift in."
Sidhart added, "St Pius played well, but our strategy won it in the end."
The rest of the team were Max (goalkeeper), Jake, Alex, Willis, Billy, Oliver, Joseph.
Defeat for girls as boys beat league leaders
Last Friday, The Cathedral School Girls team began their league campaign with a match at Great Leighs.
Playing in atrocious conditions, the girls never gave up and showed tremendous enthusiasm throughout.
They were 3-0 behind at half-time and the final score was 4-0 to Great Leighs.
"We may not have won, but we definitely all had fun!" said captain Tabitha.
"My favourite moment was when Rosie dribbled up the line and passed to me. I just missed!"
---------------------------------------------------------------------------------------------------------------------------------------------------
Meanwhile, the boys football claimed their first victory of the league season over Great Leighs boys.
The team kicked uphill in the first half but still lead 3-1 thanks to two goals from Harrison and one from Jake.
In the second half, Jake added another and Joseph also scored so they ran out 5-1 winners.
The game saw Max make his debut as keeper and the rest of the squad were Sidhart, Billy, Nana and Oliver.
"We played well in the awful conditions, scoring good goals and keeping possession," captain Harrison said. "It was probably quite nerve-racking for Max, but he played really well for his first time."
Billy added, "We played excellently against a team who hadn't conceded a goal before Friday.
Emphatic victory over near neighbours
On the 5th December the football team played a friendly against Trinity.
The pupils that played: Alex (GK) Joseph, Sidhart, Harrison(c) Jake, Nana, Billy, Tabitha, Oliver.
They all played really well and worked as a team . Harrison (C) said "They all played really well and all put a shift in" The team won 6-1 and deserved the win. Jake said "We played well and had lots of chances."
League campaign starts with draw at champions
On Thursday 18th October 2018 our mixed year five and year six team played their first game of the season at champions Great Waltham and earned a 1-1 draw.
Those who got selected were: Alex the goalkeeper, Billy, Joseph, Jake, Tabitha, Nana, Harrison (c) and Oliver. We played very well and were a bit unfortunate not to win but most importantly enjoyed ourselves.
With an outstanding performance, keeper Alex said, "It was exciting and we deserved to win." First year 5 girl to play in the school football team, Tabitha added, "It was very fun because everyone got an equal amount of playtime."
Finally, captain Harrison said, "I was really impressed how everyone played and participated."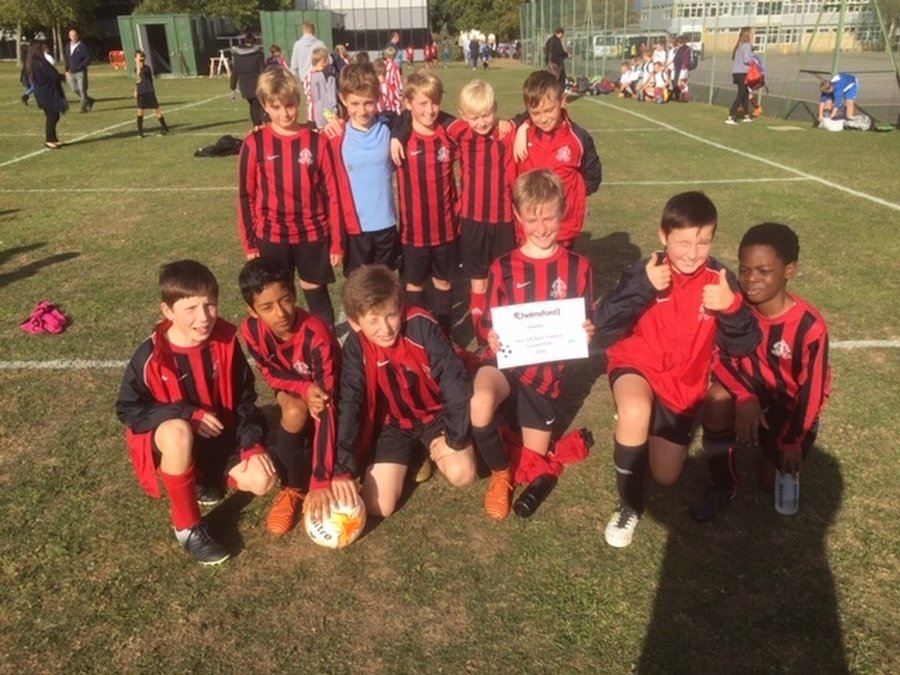 Great Team Spirit at District Tournament
On Wednesday 3rd October, the year 5/ 6 football team went to play in a football tournament at Baddow High School.
Year 5 were in Kingswood and Mr G selected all the year 6 in the school football team including: Adam ( in goal), Joseph, Dylan, George, Billy, William, Harrison (captain), Willis, Francis, Oliver and Sidhart. They were in a pool with four other schools St Pius, Westland, Perryfields, Gt Waltham .
The first goal scorer of the tournament for Cathedral School was Sidhart, and he said "I was happy about scoring the first goal and it was a great feeling".
Harrison, the captain, added, "I think we worked well together even though we had different abilities. Furthermore, the team played really well and came 13th out of 15 teams."
We played six matches; the team won one, drew three and lost two.
Everybody supported each other exceedingly well, all performed nearly to their best. The whole team represented the Cathedral School very well with everyone playing equal amounts.
Middle School Girls make Reed League bow
Two teams from the Cathedral School competed in the inaugural Reed League Girls Football Competition at Moulsham Junior School on Wednesday.
Eight of the ten girls were playing for the school for the first time and they were split into two 5-a-side teams for Year 3s and Year 4s.
The Year 3 Girls narrowly lost 1-0 to Moulsham Year 3s before games against older children from Lawford Mead, Westlands and Moulsham Year 4s.
Meanwhile, the Year 4 Girls beat Moulsham Year 4s 1-0, lost 2-1 to Tyrrells but then beat St Michaels 4-0 and Moulsham Year 3s 3-0. Tabitha was their top scorer and they finished third overall.
Connie, Year 4, said, "The best thing was the teamwork that we did and just playing in general."
Lyanna, Year 3, added, "The most important thing was that everybody had fun."
The squad were Lyanna, Emily, Emily-Jane, Evie, Rose, Anya, Daisy, Connie, Amelie and Tabitha.
Boys seal second spot at St Pius
On Thursday 24th May, the boy's football team finished their league campaign with a 3-0 victory at St Pius.
Al , Tosin, Sam, Dylan, Harrison, Euan, Jamal, Frederick and Elijah had to play in difficult conditions - long grass and a square pitch on St John Payne's field.
However, they played well together and came out victorious after leading 1-0 at half-time, thanks to two goals from Elijah and an own goal.
Jamal said, "I think we played well as a team but it was a shame that I didn't score against my old school. Overall, we all had a great time and enjoyed ourselves."
By Jamal (football team captain)
Mixed team enjoy Dome tournament
The school took its first-ever mixed Year 3 football team to a new tournament at Great Baddow High School.
Because of heavy rain, Adam, Alex, Theo, Rose and Ella had the chance to play under the school's special dome on their artificial pitches.
After losing 2-0 to Perryfields and 1-0 to Bishops, they enjoyed their first win against St Annes by two goals to nil, with Theo and Alex the scorers and Ella blocking all the opposition attacks. Some great defending by Rose helped the team draw 0-0 with eventual winners Writtle in the next match, while Adam scored our final goal in a 2-1 defeat to Boreham, in which Theo pulled off an incredible save with his head!
The team finished joint-fifth overall and showed wonderful sportsmanship throughout.
Girls defeated in final league game
The girls team completed their league campaign with a 3-1 home defeat to Danbury Park.
Danbury led 2-0 at half-time. Ellie and Catherine came close to scoring before Danbury scored their third. With the last kick of the game, Catherine scored our consolation goal. Emily, Annie and Jasmine all made debuts.
Jasmine said, "It was really fast, enjoyable and fun. I enjoyed all of it and would definitely like to play more matches."
The girls finished their season with two wins, one draw and two defeats.
They scored five goals and conceded nine in all their matches combined.
B team newcomers battle back despite defeat
Eleven children made their debuts for the Cathedral in a B team fixture on Monday, losing 4-2 to Great Waltham.
Great Waltham went 2-0 up early on before Billy made it 2-2 before half-time. Both teams had chances in the second half before Waltham slotted their winning goals. George said, "I thought we did very well, but there were some areas where we switched off where we could have done better."
William added, "We all tried hard and did our best. I enjoyed it when Billy back-heeled the ball into the goal."
First victories for both teams in home double-header
The girls and boys football teams recorded their first league wins of the season against Boreham on 9th March.
The girls won 1-0 thanks to a left-footed strike in the first half by Ellie , while the boys lead at half-time through a Jamal goal, before Elijah scored a second-half hat-trick.
Lily Dc said, "I felt very proud, not just of myself, but eve-rybody.
Lucy hailed their "incredible" coach Mrs Burden and added, "I felt ecstatic at the final whistle."
Meanwhile, hat-trick hero Elijah said, "I felt very pleased because I thought we had a very good connection on the pitch. The first goal was my favourite one because it was my first one for the school."
The teams followed these wins up with two more against Great Leighs the following Friday.
Tabitha and Ellie scored in a 2-1 victory for the boys, while Elijah scored another hat-trick, Tosin netted two and there was a goal each for Harrison, Al, Sam and Frederick in an emphatic 9-1 successfor the boys.