Key Stage Two Cross Country
Girls claim our first county medals
Our Year 5 Girls cross-country team have been confirmed as bronze medallists following April's Essex County Championships at the Olympic Mountain Biking Venue at Hadleigh Park in Thundersley.
Daisy (17th), Olive (50th), Katie (58th), Leah (73rd), Lottie (93rd) and Meghan (104th) managed a total of 188 points to claim third spot. It is the first time that a Cathedral team has ever finished in the medal positions at this event.
Meanwhile, despite falling, Oscar got up to come 55th in the Year 3 boys race and Jacob was 18th in the year 4 race.
Relay runners brave horrid conditions
Twenty-four runners from the Cathedral School braved torrential rain, driving winds and hail to compete in the annual cross-country relays at Melbourne Park on Thursday, with every team finishing inside the top 10.
Both A teams in Middle School narrowly finished in second place, with Jacob, Adam, Oscar and Aiden for the boys, and Rosie, Sienna, Amy and Sophie for the girls. They were followed home by our B team of Annabelle, Ellie, Maisie and Eleanor.
In Upper Schools, our A team of Daisy, Leah, Lottie and Annabel P were sixth, and chased hard all the way by the B team of Ol-ive, Katie, Bella and Annabel W in eighth. Our boys team of Nana Kwame, Jake, Harrison and Sidhart were in a battle for third place before finishing sixth in a tight finish for the places.
Thank you to all the adults who supported and helped in really testing conditions.
Wins for Year 4 boys and Year 5 girls
Fifty-eight children from Key Stage Two represented the school in style at the final Cross-Country League event of the season at Melbourne Park on Thursday.
The eight teams all finished in the top three positions in their leagues, with four third-places, two second-places and victories for the Year 5 girls and Year 4 boys, while Daisy and Jacob both claimed individual second places in both those races.
Many of the team achieved individual personal bests, and finished in the top-10, top-20 or top-30 for the first time. More importantly, 13 of the teams experienced competing and completing a race for the first time.
A special mention to our 12 girls in Year 3. Due to a mistake at the start, they ended up being chased by, rather than following, the lead buggy, and ran considerably further than they should have done!
Meghan, who came 33rd in the Year 5 race, said: "It was windy but fun. I was proud of my friends Bella and Amelie, running for the first time."
Sam, Year 6, who finished 38th in his first race, added: "It was tense at the start and I found it hard to keep up, but I knew it would be worth it in the end."
Individual and team success at champs
Eight pupils qualified for the County Cross-Country championships at last week's District Cross-Country Championships at a hot Melbourne Park.
Jacob came first in the Year 4 boys race, while Oscar was third in the Year 3 boys event. The Year 5 girls team of Daisy (7th), Leah (9th), Olive (10th), Katie (17th), Lottie (18th) and Meghan (24th) scored an incredible 43 points which was enough to win their overall competition.
Eleanor, Evie B, Alex Y, Amy, Rhian, Jeremiah, William S, Millie and Kiera all ran in their first races of the season. There were also top-10 finishes for Rosie and Sophie (8th), and Adam and Jake G (both 5th).
The rest of the runners were Ellie, Maisie, Francine, Nancy, Teddy, Jake R, Elijah, Zachary, Elianna, Annabelle K, Annabel W, Annabel P, Nana Kwame, Alex S, James, Florence, Evie L, Harrison, Sidhart, Joseph, Billy, William M and Willis.
"It was fun and everyone participated well," said Jacob.
Final team positions: Year 3 girls (second), Year 3 boys (third), Year 4 boys (second), Year 4 girls (fourth), Year 5 girls (1st), Year 5 boys (7th), Year 6 girls (12th), Year 6 boys (6th).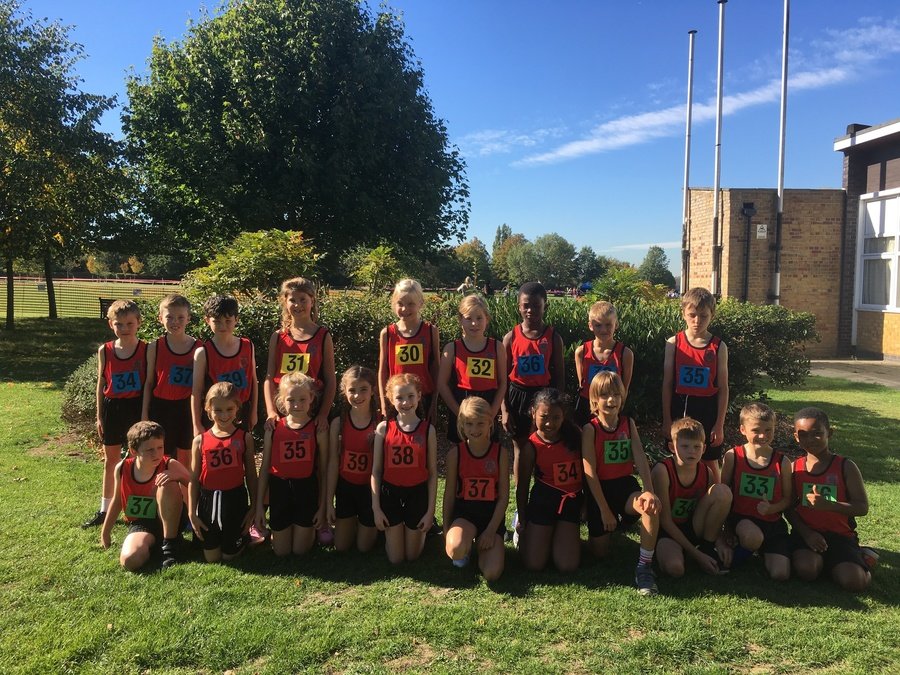 Four wins our of four for Middle School
Round 1 - Chelmer Park
The cross-country team recorded their best-ever League results at Chelmer Park on Thursday when all four teams won their races and three runners claimed individual medals.
The Year 3 girls team was lead home by Sienna (3rd) and Sophie (5th), followed by Ellie, Maisie, Nancy and Francine. Oscar lead for a lot of the race before finished second in the Year 3 boys. He was supported by Teddy, Jake, Elijah and Zachary.
A brilliant late burst by Rosie saw her finish a close fourth in the Year 4 girls race, with Elianna, Annabelle and Sasha completing the team. In the last race, Jacob stormed to victory followed by Adam (4th), Aidan, Joshua, Bertie and Theo.
"I loved it," said Ellie. "I was just so pleased I did it for the first time."
"It was so fantastic because there were about 80 children in each race," added Sienna.
Round 1 - Melbourne Park
The cross-country team produced excellent results in blustery conditions at Melbourne on Thursday.
Both the Year 5 girls team finished second and the Year 6 boys teams were third in their groups. Daisy came fourth and led home Leah (12th), Lottie (14th), Olive (15th), Katie (16th) and Meghan (43rd). Harrison (15th) was first Year 6 boy followed by Willis (32nd), Joseph (33rd), William (43rd) and Billy (92nd). Unfortunately, Sidhart was knocked over at the first corner and unable to finish.
Jake picked up a medal for 4rd in the Year 5 boys race and the team was made up of Nana Kwame (24th), Alex (91st) and James (108th), while Annabel P(36th) was the leading Year 6 girl, followed by Annabel W (69th), Grace (91st), Evie (92nd) and Florence (104th), who ran despite a foot injury.
"The wind was very strong but I was pleased I was able to keep pace," said Harrison.
"It was very hard to do the run but we still managed one of our best results," added Meghan.
Enter text...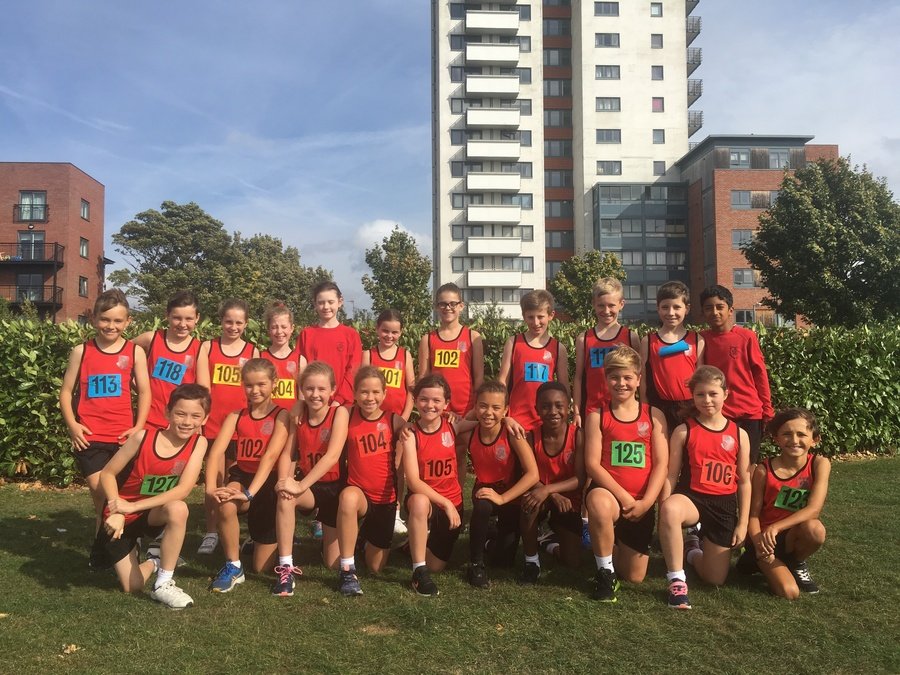 County finals
The Cathedral School was well-represented in the County School Games Cross-County Team and Individual Finals at Hadleigh Park, the venue for the 2012 Olympic Mountain Biking races.
In sweltering conditions, the Year 4 girls team totalled a score of 97 points thanks to Daisy (15th), Leah (17th), Olive (32nd), Lottie (33rd), Anya (35th) and Katie (44th). Daisy and Olive came back the next day to finish 41st and 46th respectively in the individual race respectively.
The children ran in brand-new kit kindly donated by law firm Tees Law, based in Victoria Road South. Daisy said, "It was really fun but tiring. I thought the new kit looked really cool."
In the Year 3 race, Ella was 21st and Rosie was 74th. Jake missed the start of the Year 4 race but ran with the Year 5s and came an incredible 61st. Finally, Al was 23rd in the Year 6 race and Frederick finished 65th.
Jake added, "It was quite hard but I enjoyed running with Year 5 because it was a bit further and a like running longer distances."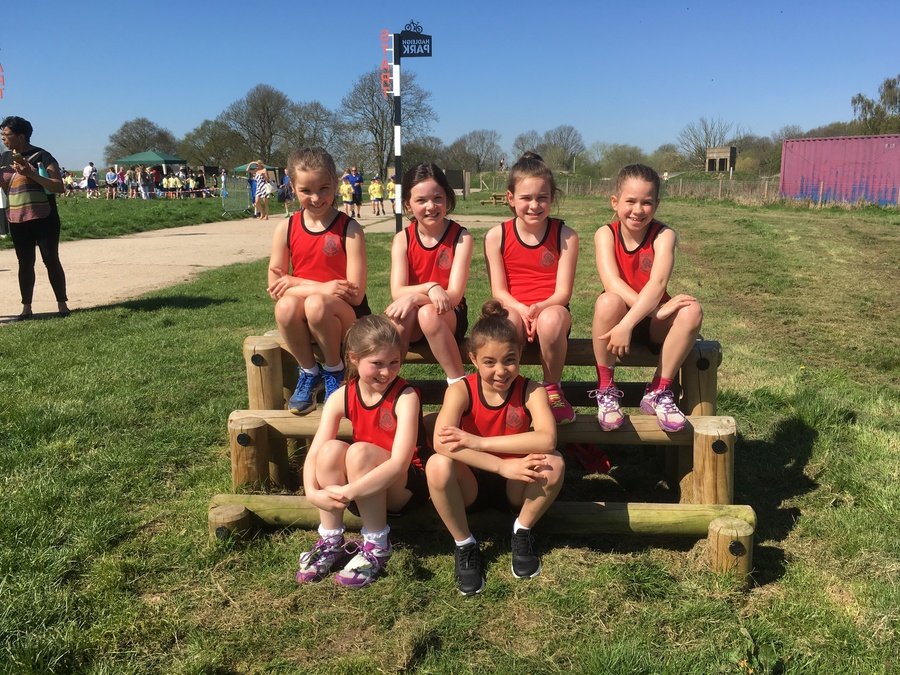 Relays and presentations
The Cathedral School collected three league titles at Thursday's cross-country presentations after earlier achieved success in the end-of-season cross-country relays.
The Middle School Girls team of Leah, Daisy, Olive and Ella were victorious, while team of Rosie, Katie, Lottie and Anya came fourth. The Upper School Boys team of Al, Frederick, Euan and Ben were second, while both the Middle School Boys and Upper School Boys teams were in the top 10 overall.
Olive said, "The relay was challenging but fun. I was over the moon when I saw Ella crossing the finish line in first place."
Afterwards, the Year 3 Girls, Year 3 Boys and Year 4 Girls all received their league titles. The Year 4 Girls have also qualified for the County Team Finals at Hadleigh Park in April, while Ella, Rosie, Leah, Daisy, Jake, Al and Frederick have all earned places in the individual finals at the same venue.